Welcome to Kennel HiJacks
The goal for Kennel HiJacks is to produce the perfect Dual-Purpose Jack Russell Terriers. They are to uphold the breed standard and working tests on fox, as they are to be healthy. Beneath you can read more about the dogs in the Kennel and how they uphold the goal.
Finnish Working Champion (cave), Danish Veteran Champion x2 and Danish Winner 2018 - Duvå Flicka III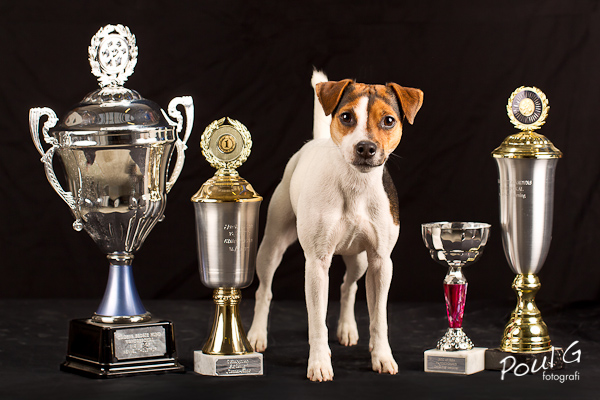 Flicka is a working and show bitch in the Danish Kennel Club. Her hunting skills are excellent and she has impressed every judge on the fox hunting test and have stolen the spotlight every time. She became the first Danish Working Champ in Denmark in 2012, with an impressive score; 3 times maximum points (75) and the last one at 70 points. And in 2016 and 2019 she also became Finnish Working Champion (cave) with maximum points. With her impressive hunting skills she is also beautiful and have won shows in Denmark, Sweden and Germany. She is a living proof of an excellent hunting dog without compromising the looks.
She is tested clear for patella luxation and DNA testet carrier for primary lens luxation.
She got her first litter in March 2013 with Figo - HiJacks 1st New Years Cracker and Venturo. And her second litter HiJacks 2nd Blue Berry, Pink Lady and Black Currant in July 2014. The last litter was with Kingsway Marshall in 2015 and HiJacks 3rd Awesome Salto, Wicked Rudy, Turbo Kip and FlikFlak.
In loving memory
HiJacks 1st New Years Venturo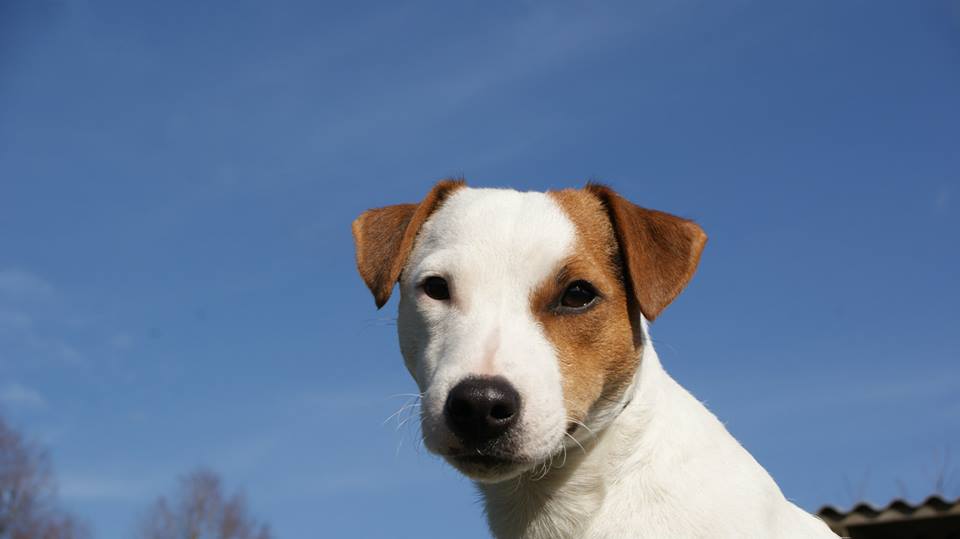 Venturo was my first selfmade Russell Terrier from 2013. He was a perfect mix of his mothers huntings abilities and his fathers wishes to please. He has already won in shows in Denmark and Germany. And became Finnish Working Champion in 2017 and competed again in Finland i 2019.
He was DNA tested Carrier of primary lens luxation and his patella luxation status was 0/0.
He pasted away in march 2020.
Karlsbjerggårdens Sir Rowe - Also knowned as Figo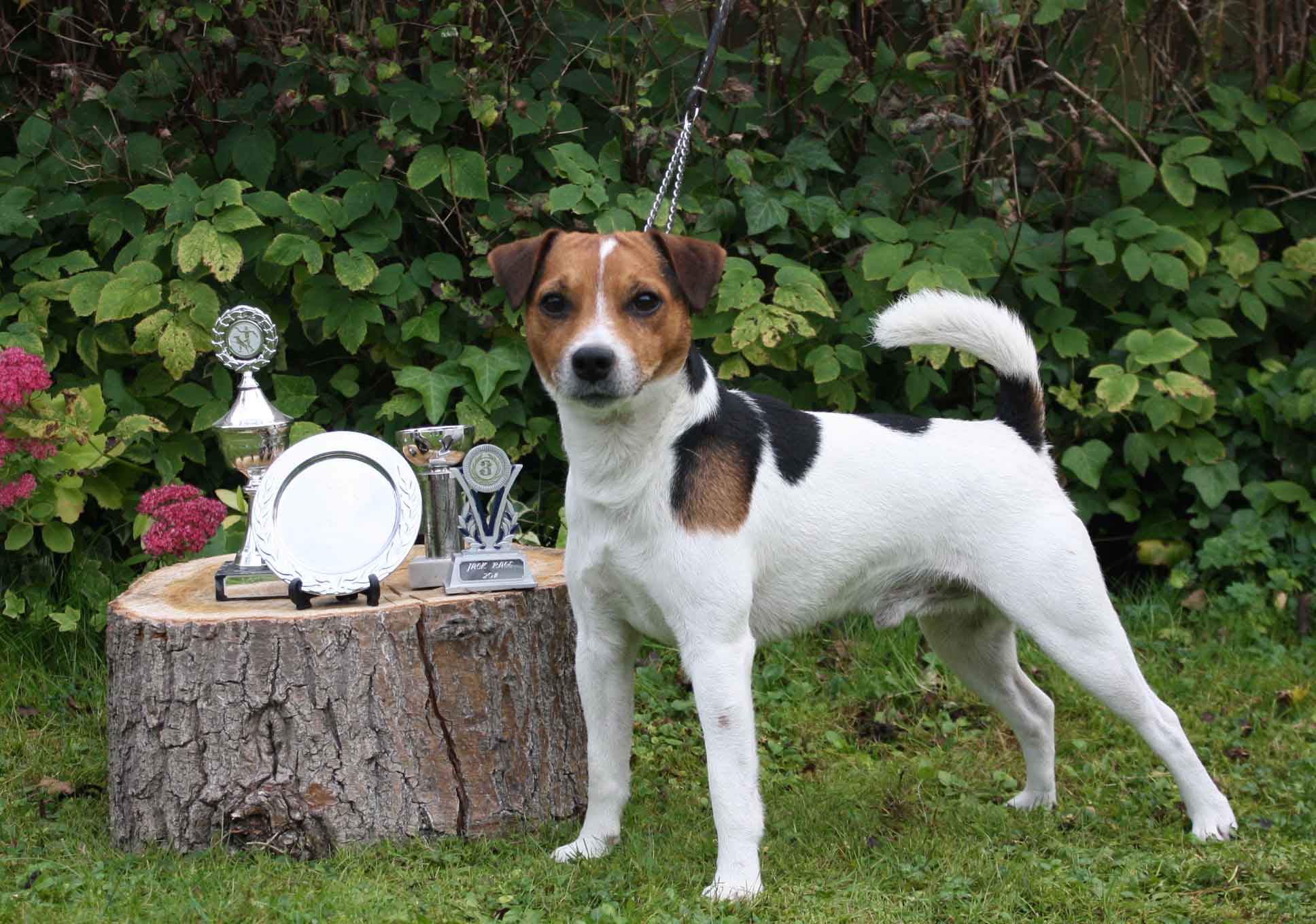 Figo was an approved stud in the Danish Jack Russell Terrier Club. He had numoures excellent results from the Danish and Swedish dog shows. He was a hunting dog till his last day. He succesfully drove several fox', a badger and a marten out from their dens without any damages. He was also used in retrieving birds and hunting deers.
He became father to 36 lovely puppies.
He tested clear for patella luxation and DNA tested clear for primary lens luxation.
He pasted away in July 2018.
Formerly owned Stud - Sparky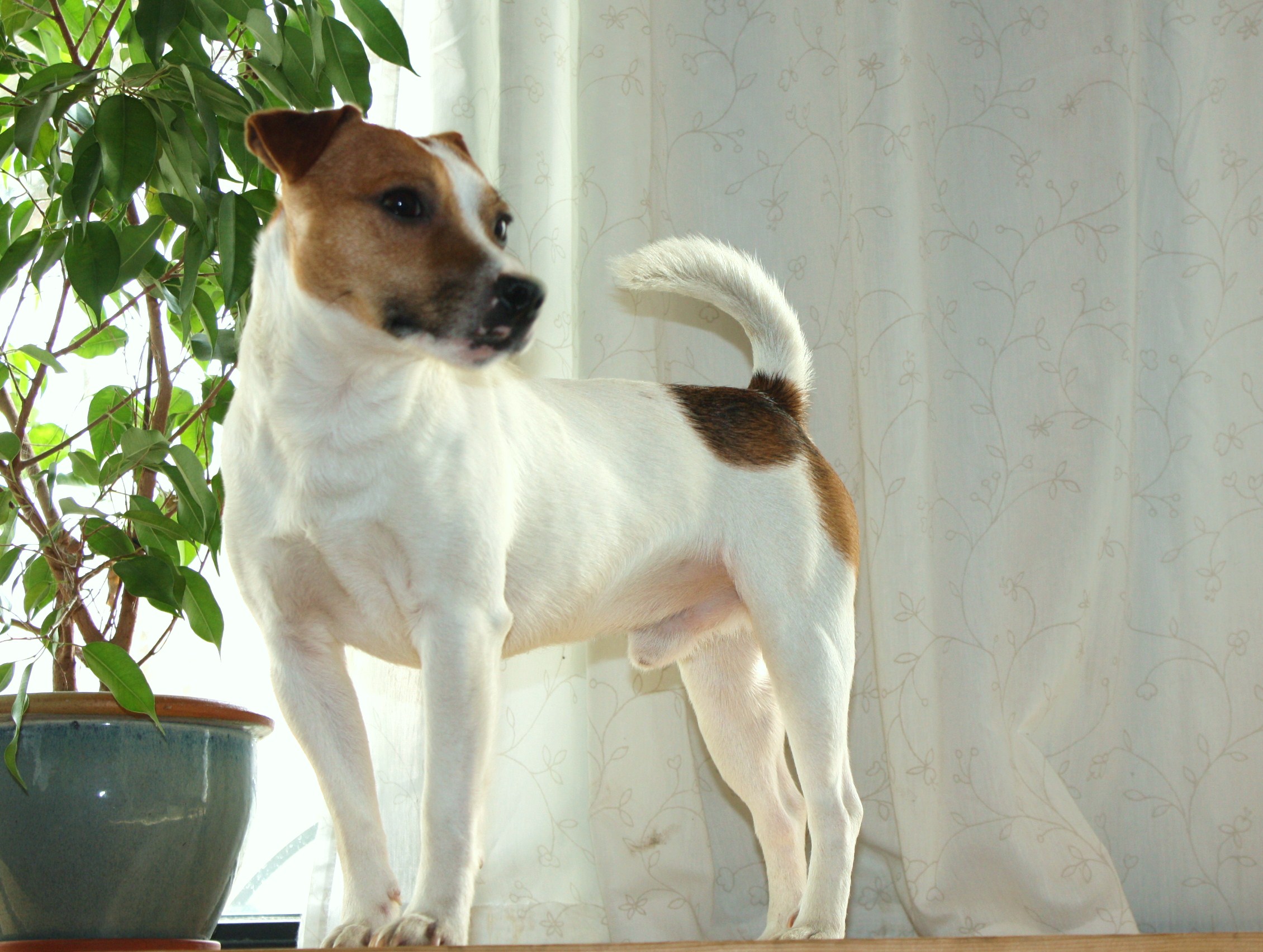 Sparky is a smaller brother to Figo and is also an approved stud in the Danish Jack Russell Terrier Club. He came to me in the summer 2010 and has not been competing in so many dog shows, but still a winner in both Germany and Sweden. See the result list on this webpage. He is also used for foxhunting and got his first fox in february 2011. He now lives with my eks-boyfriend in Jutland, where he is used for foxhunting and taking good care of the 3 younger bitches in the household and Labrador pup. He has produced several lovely puppies already.
He has tested clear for patella luxation in March 2010 and DNA tested carrier for primary lens luxation.
If you would like to know more about these wonderfull dogs, you can contact me at jensencynthia@hotmail.com (please write the dogs name in the subject otherwise it will go as spam) or at my mobile +45 2628 2075. You can always try to google translate the other pages, to learn more about the dogs.
Sincerely
Cynthia
We are members of Danish Kennel Club and Danish Terrier Club.